199 Ideas: Enhancing Learning Experiences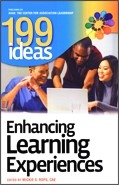 Improve your education programs. One of the primary roles many associations play is in the form of education. Whether it's in webinars, online courses, or learning sessions at an annual meeting, who wouldn't benefit from some ideas to freshen up programs that are repeated year after year, or fresh twists to boost your evaluation scores?
The collection of ideas in this book can help. You'll find ideas for designing the learning experience, enhancing virtual conferences, evaluating the learning experience, and more. This book is a must-have for trainers, education and program managers, and anyone else involved in the learning experience of their membership.