Road to Relevance: 5 Strategies for Competitive Associations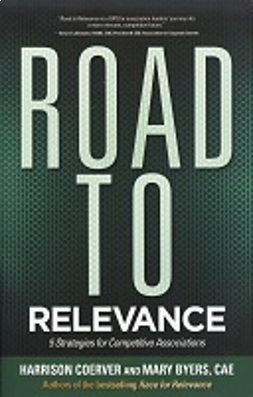 In their bestseller, Race for Relevance: 5 Radical Changes for Associations, authors Harrison Coerver and Mary Byers, CAE, described unprecedented challenges to membership organizations' relevance. They also defined compelling imperatives for change.
Picking up where Race left off, Road to Relevance identifies five practical strategies for successfully competing now and in the future. The strategies range from capitalizing on strengths to purposefully abandoning under-performing programs and services.
Road to Relevance, the supplemental companion to Race, doesn't stop at identifying the strategies. It gives real insight into how to adapt them to your organization's circumstances so you can execute. Case studies, adaptable examples, and provocative questions are included throughout Road to help you work through these strategies from adoption to implementation.
Operating as you've traditionally done for the last ten, twenty, or more years is not a viable option. Association leaders must be disciplined strategists. They must focus the organizations they serve on value they can deliver. They must structure accordingly to compete in the "new normal."
Use insight from this book to lead your organization to an ever more valued, sustainable, and relevant future.
More Information

| | |
| --- | --- |
| Author | Harrison Coerver & Mary Byers, CAE |
| copyright | 2013 |
| Book Type | Strategic & Business Planning |
| Dimensions | 152 pages |
| Format | Hardcover |
| Publisher | ASAE |
| ISBN | 880343567 |